Bike Patrol Team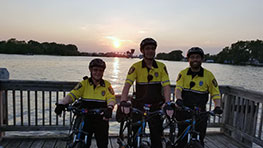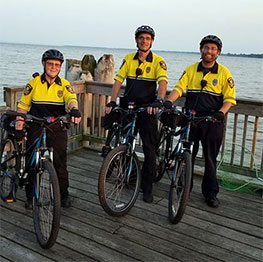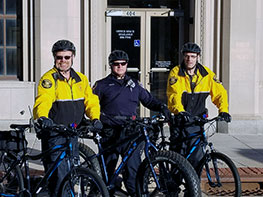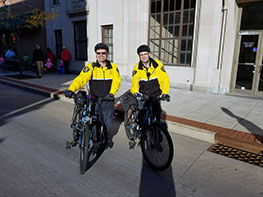 Oshkosh has become known as "Wisconsin's Event City" In our role as Auxiliary Officers, we find that we have some involvement with most if not all of the special civic events that occur in Oshkosh. As the requests for our services increase, we are challenged to find more effective ways to conduct our duties. One method to better utilize our manpower and expand our uniform presence is by the implementation of a Bike Patrol Team.
In 2013, the Auxiliary Bike Patrol Team was created. A policy and procedure document was created, Team members were selected and trained and special gear was purchased for their use.
The first official event the Team participated in was the 2013 Oshkosh Holiday Parade. Along with assisting with traffic assignments at various corners along the route, the team also patrolled the crowd line during the parade to assist keeping the parade spectators a safe distance from the vehicles participating in the parade.
The Team will be utilized for parade duties on future parades. They also will be used for a variety of duties at special events that occur along the newly constructed river-walk….and for events yet to be identified.
Oshkosh Auxiliary Police Bike Patrol Team:
Team Commander - Capt.. Kevin Schouten
Capt. Joe Youngbauer
Sgt. Mary Knudsen
Lt. Ron O'Bright
Lt. Will Welch
Officer Matt Kirby
Our members were trained under the guidance of Oshkosh Police Department Bike Patrol Officer Tom Kopczyk.