Auxiliary Police Chief
Scott Footit
On behalf of the men and women of the Oshkosh Auxiliary Police, I'd like to welcome you to our webpage.
Thank you for taking time to discover what we as Auxiliary Police Officers do.
Click here to read more.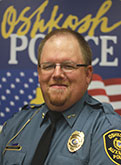 Mission Statement
Click Here
to read the Mission Statement of the Oshkosh Auxiliary Police.
Auxiliary Definition:
Auxiliary - Latin (auxilium: aid, support, assist)
1. Giving assistance or support; helping.
2. Acting as a subsidiary; supplementary.
3. Held in or used as a reserve.
4. An individual or a group that assists or functions in a supporting capacity.

History

The Oshkosh Auxiliary Police/Civil Defense organization was conceived in 1958 by Deceased Chief of Police Harry A. Gunther, to assist the Oshkosh Police Department at all public functions, involving large numbers of people, as well as to assist in any disasters or emergency situations within the City.
Click here
to read more about our history.