Auxiliary Chief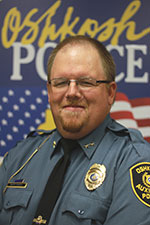 Scott Footit
Chief
Oshkosh Auxiliary Police
On behalf of the men and women of the Oshkosh Auxiliary Police, I'd like to welcome you to our webpage.
Thank you for taking time to discover what we as Auxiliary Police Officers do. The primary purpose of providing our website is to share information and communicate the purpose of the Oshkosh Auxiliary Police.
We have found that most people are unaware of exactly what we as Auxiliary Officers do. As you will come to find out, our focus is helping the Oshkosh Police Department perform many routine functions that require additional staffing. We clearly are not sworn Officers, however in our status as volunteers, we are able to support sworn Officers in and efficient, effective manner.
Throughout our history, our Organization has evolved, however we remain committed to the concept of volunteerism. Auxiliary Officers are unpaid and are proud to donate their time and energy to the Department and Community.
We encourage you to ask questions and become more knowledgeable about the services we provide. We are proud to be a part of the Oshkosh Police Department and look forward to your comments and support!